Date: Tuesday, September 12, 2023
Time: 8-11 AM PT
Location: Online
On Tuesday, September 12, 2023, from 8:00-11:00 AM PT, join the Institute for the Future (IFTF) for a deep dive into the long-term implications of AI on organizations, jobs, and individual abilities. Attendees will get an exclusive preview of IFTF's decade-long predictions on AI's potential benefits and challenges. The event will feature a unique AI "digital twin" simulation with IFTF Distinguished Fellow Bob Johansen and guest speakers, including MIT Professor Daron Acemoglu, author of Power and Progress, and IFTF's Jane McGonigal.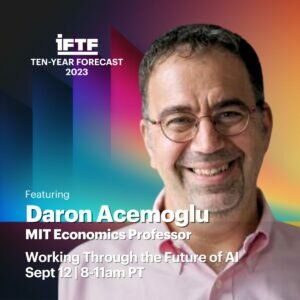 Register and learn more here.